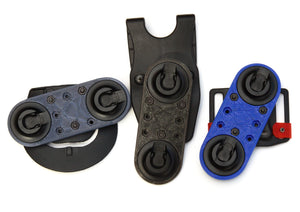 Magnetic Holster - Blackhawk Mount
Carry your magnetic holster system blaster on your belt using real steel pistol belt mounts. Blackhawk holster parts are made from glass reinforced nylon, far more durable than any 3D printed part, and come in a variety of styles for reasonable prices.
I have tested it with the 410902 Belt Paddle Mount, 44H900 High Ride Belt Loop (for which I designed better adjustment sliders), and Low Ride Belt Loop, as shown, and Blackhawk makes a number of additional products that should be compatible, like the Quick Release Belt Loop and Mid Ride Belt Loop. There is also a MOLLE Adapter.

The Blackhawk mounts all give you angle adjustment options, and my 3D printed mount also allows you to rotate the blaster 90 degrees for small of the back carry.

Default print color and screw color is black, unless specified otherwise.