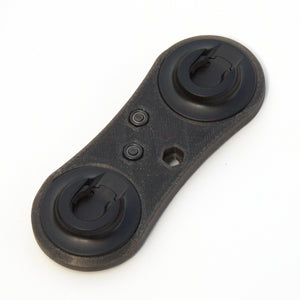 Magnetic Holster - ELS Belt Mount
Mount your magnetic holster system blaster to a tactical ELS competition belt. ELS belts are the most robust belt system I've found, it hooks through your pant's belt loops so it doesn't ride up your waist, and it is very rigid so blasters and mags don't twist and flop around when you run. The velcro and the fact that you don't have to remove all your attachments to remove the belt makes it very easy to take on and off. You can switch the nut between the top and side holes to adjust the angle of the holster in 30 degree increments.
Compatible with the Holdster and Lotus System drop leg holsters and glue-on blaster bars. Tested with this knockoff ELS belt, but it should work with genuine Safariland ELS belts and liners as well.
Default print color and screw color is black, unless specified otherwise. Note that the print in the image is sparkly black, not the normal black. I also have silver screws and nuts available.